Compression Molding is the original production method for molded rubber. It is a useful molding process for forming bulky parts, bellows, grommets, gaskets, seals and O-rings, etc. It is a widely used, efficient, economical production method for many products particularly low production volumes of medium to large parts, materials with a high cost and applications that demand extreme hardness. The process involves compressing preformed rubber in a mold with a press. During the compression process, rubber is forced into the mold cavity to form the final product.
Compression Moulding ProsCompression molding is cost economic than rubber transfer molding and LSR injection molding, and the compression molding process is quite simple when compared to LSR injection molding. (It is a low-cost process and can be used for both low & high volume production.)
Short set-up time, easy to change material's hardness & colors quickly.
Compression Molding is the only way to produce silicone products at Marble Colors.
The tolerance can be controlled at 0.02-0.1mm by using good steel material, good located pins, and good mold-making equipment.
Compression Moulding has more material options: Compression molding is suitable for many kinds of silicone rubber materials, as parts can remain pliable after the curing process. The most common materials include common silicone, food grade silicone, medical grade silicone, natural rubber, EPDM, Neoprene Rubber, Nitrile Rubber, etc.
EPDM, NBR, SBR, NR, Silicone(VMQ), Neoprene(CR), HNBR, XNBR, FKM, FFKM, FVMQ, FLAS, PTFE, PU, ECO, IIR, ACR, etc... 
We can make parts according to your tolerance requirements, if you do not have special requirements on the tolerance,our tolerance is according to the standard of ISO3302:2014 CLASS 2

With compression molding, we can make surface as matte, texture, common polishing, mirror polish, laser engraving, power coating, printing, segmented colors and mixed colors. You can find effect of different surface treatment from below picture.
NEWAY highly welcome custom surface treatment for silicone rubber parts.

Once the order is confirmed, our engineer will provide the DFM report (Design for Manufacturability Analysis) to customer for approval. We'll start to design the mould drawing and mould making after the DFM report approved by customer. Once the mould making is finished, we'll make several pieces of pre-production samples for test, if the dimensions are correct, then we will send the samples to customers for final confirmation. If the test failed, we will modify the mould or adjust the molding parameter to make new samples, and test it again. Once the samples are approval by customers, we will purchase the raw material and making quality inspection. Then mixing material, molding and trimming, we will make many times of inspection during the production. Finally we will arrange the assembly and packing. After whole order is ready, we will send the packing list to customer to arrange the shipment.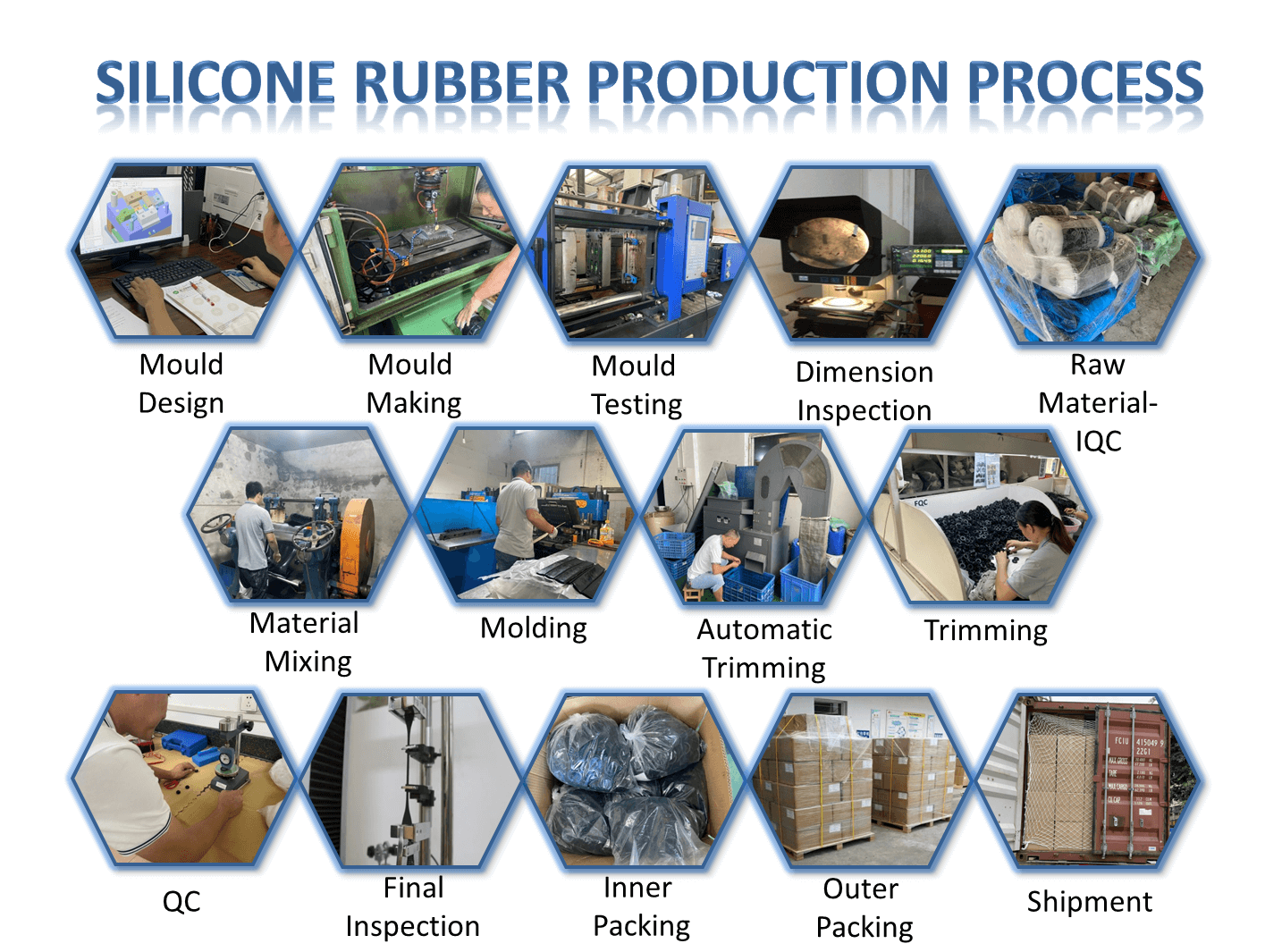 NEWAY's quality is 100% according to ISO9001 Standard. We seriously take care of the quality control from IQC to OQC, throughout each step of the production. Let us show you our quality control:
For raw materials, we'll do the IQC in time. All materials are procured only from the verified suppliers, who have implemented and maintain certified quality management systems in their plants. With full certificates, such as RoHs, Reach, MSDS, FDA, LFGB, UL, EN549, BPA free, EN71, and so on;
For pre-production samples, we'll provide several pieces to our clients for assembly and function testing. We will seal the samples in time once they're approval.
For Bulk Production, we'll do the IPQCS & PQC (Multiple Sampling Inspection) during production and we'll do the FQC (Sampling Inspection) after deburr or breaking sharp edges. In order to timely find problems, solve problems, reduce defective products, reduce manufacturing costs.
After packing and assembling, we'll do the OQC (Sampling Inspection) to make sure the final goods are qualified.
Below you find find our inspection equipment for your reference.